Mid States is currently accepting application for welders.
Since 1966, Mid-States has proven to be a leader and a major manufacturer in the material handling industry. Located in rural southeast Iowa, our worldwide customer base relies on us for all non-powered material handling equipment needs.
In addition to being a part of this expanding industry, we also offer excellent and affordable benefits including:
Medical Insurance coverage through Wellmark Blue Cross/Blue Shield
Employer paid short-term, long-term disability and accidental death & dismemberment insurance
Optional (additional) voluntary accidental, cancer insurance through Colonial Life
401(k) investment opportunity after 1 year and 1000 hours of service
Paid leave for full-time regular employees includes:
Vacation: 40 hours beginning on 1 year anniversary
PTO (paid time off): 40 hours per year
Holidays: paid holiday after completion of introductory period
We hope this information will prove helpful to you as you consider becoming part of the Mid-States team!
To apply follow this link http://www.mid-states1.com/employment/
_______________________________________________________________________________________________________________________________________________________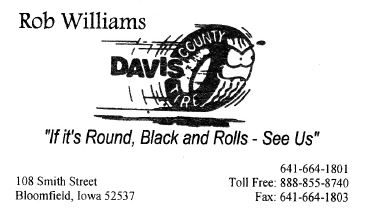 Diesel Mechanic Wanted!
The ideal candidate will have experience in diesel engines as well as all aspects of trailer repair.  Must have own tools.
Pay based on experience.  Benefits include health insurance, paid holidays, vacation & a great work environment!
Contact Rob Williams 641-664-1801 or rwilliams@eitire.com
---

Click here for an application and to see open positions.
---

Jefferson County Health Center has various openings. Apply online at www.jeffersoncountyhealthcenter.org or contact HR Manager Sarah Beasley at 641-469-4321.
---


Cambridge Investment Research, Inc., a national leader as a securities broker/dealer, has various openings. Apply online at www.cir2.com/careers
---


Various open positions at Fairfield Community School District.
All applicants are to go to our website https://www.fairfieldsfuture.org and apply online.
---
Regional Opportunities
North West Missouri
Central Missouri
Southern Missouri
South East Missouri
Central Iowa
South East Iowa
Additional positions in Iowa from SouthernIowaHelpWanted.com