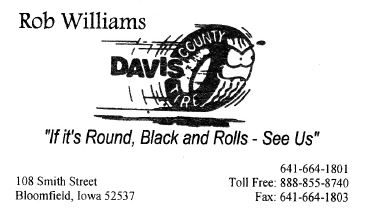 Diesel Mechanic Wanted!
The ideal candidate will have experience in diesel engines as well as all aspects of trailer repair.  Must have own tools.
Pay based on experience.  Benefits include health insurance, paid holidays, vacation & a great work environment!
Contact Rob Williams 641-664-1801 or rwilliams@eitire.com
---

Click here for an application and to see open positions.
---

Jefferson County Health Center has various openings. Apply online at www.jeffersoncountyhealthcenter.org or contact HR Manager Sarah Beasley at 641-469-4321.
---


Cambridge Investment Research, Inc., a national leader as a securities broker/dealer, has various openings. Apply online at www.cir2.com/careers
---


Various open positions at Fairfield Community School District.
All applicants are to go to our website https://www.fairfieldsfuture.org and apply online.
---
Regional Opportunities
North West Missouri
Central Missouri
Southern Missouri
South East Missouri
Central Iowa
South East Iowa
Additional positions in Iowa from SouthernIowaHelpWanted.com