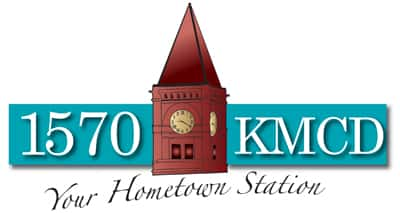 KMCD Spotlight Schedule
KMCD Programming Schedule
KMCD Sports Schedule
KMCD Radio serves Jefferson County and surrounding area with America's number one radio format, Classic Hit Country along with the local content KMCD listeners have come to expect for the last five decades. It must be working: independent surveys show that KMCD is the area's dominant radio station.
Information
KMCD is committed to bringing area listeners the most accurate and complete local, state and national news possible. To do this we rely on the #1 source for radio news in America, CBS Radio News, along with KMCD News Director David Fannin, Radio Iowa News and Agricultural reports from the Brownfield Network. KMCD is the source for anyone who wants to be in the know.
Sports
20+ year veteran Lee Muntz leads the area's best and most comprehensive sports coverage. Play by Play broadcast of Fairfield Trojan Sports, coverage of area teams and the Saturday morning Coaches Corner are just a few of the offerings the "Muntzter" delivers to the sports junkie.
Entertainment
The KMCD/Classic 96 morning show with Steve Smith, Lee Muntz and David Fannin, weekday mornings at 6:30… more news, more weather and more sports… the things that are important to you… we have a lot of fun and all the features you want like birthdays and anniversaries, lunch menus and the most complete coverage of local events in Southeast Iowa…
KMCD features a refreshing blend of the biggest artists in country music history. Willie Nelson, Alabama, Reba McEntire, George Strait and Dolly Parton to name a few.
The Sound Investment
Committed to getting results for our clients is our #1 goal, doing this with the news and entertainment our listeners demand is our passion. For more information on how KMCD can help you achieve your marketing objectives with our large, loyal and attentive audience, contact your KMCD-Classic 96 marketing consultant today!
KKFD-FM • KMCD (AM) • ExploreSEIowa.com
57 South Court Street • P. O. Box 648 • Fairfield, IA 52556
641-472-4191 • Fax 641-472-2071 • www.exploreSEiowa.com