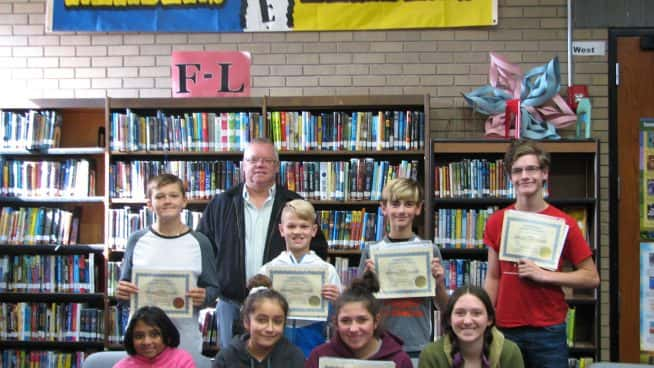 Each school month, the Fairfield Elks Lodge sponsors the Fairfield Middle School "Students of the Month" award. The purpose of this award is to acknowledge positive contributions of FMS students at school. These positive contributions range from assisting teachers and peers in classroom activities to displaying characteristics as a role model in and out of the classroom. The 'Students of the Month' certificates are awarded after a nomination and voting process is completed by each grade level teaching team.
Amena Janoowalla has been selected as the 5th grade Student of the Month for October. Amena can be counted on to always do her best.  She is conscientious about her work and always puts forth extra effort.  She always has a good attitude. Amena is always kind to others, and her smile can brighten up the day for anyone.  Keep up the good work, Amena!  
Quinn Larsen has been chosen as Student of the Month for October. Quinn shows great leadership in class by showing Trojan PRIDE daily. He always comes prepared to learn, he shows respect to adults and peers. Quinn can be trusted outside the classroom, as he consistently shows integrity. In class, he is dependable to participate and to be helpful to classmates. He continues to be aware of his surroundings and is fully engaged in the learning. He is a Trojan Leader! Congratulations, Quinn!
Clae Cass has been chosen as the 6th grade Student of the Month for October. Clae comes to class every day with a positive attitude, and is always ready to learn. He always strives to do his best in every class, at all times. He is always respectful in class, and will help out anyone when needed. Keep up the awesome work, Clae!
The 6th grade team would like to congratulate Valerie Hernandez on being chosen as the Student of the Month for October. Valerie is always prepared for class with her materials and a positive attitude. She works hard every day and is willing to help others when they need it. She is respectful to her peers and adults all the time. She is willing to share her ideas and participates in class discussions. The 6th grade team appreciates her hard work. Keep it up, Valerie!
The 7th grade team would like to acknowledge Ian Aplara, a quiet leader, as the October Student of the Month. Ian's leadership has helped him set an example for younger kids, especially in Trojan Time. He models how to treat others respectfully, which is an important characteristic of a leader. Not only is Ian a leader, but he also has a strong work ethic. For example, he puts forth the extra effort and thought into his classwork. He also thinks outside the box and offers different perspectives on topics. Congratulations, Ian! 
The 7th grade team would like to acknowledge Alaina Harris, a genuine individual, as the October Student of the Month recipient. Alaina desires an appreciation for learning and it reflects in the classroom. She strives to do her best and pushes herself to go above and beyond. She also is a terrific participator in class discussions. In addition, Alaina advocates for herself by asking clarifying questions to improve her understanding. Congratulations, Alaina!
Evie Messer is creative, intellectual, and enthusiastic! The 8th grade team enjoys having Evie in class. She works her best to get assignments turned in and to the best of her ability. She is very personal and easy to work with. Her insight in group discussion is greatly appreciated. Evie is a great representation of Trojan PRIDE at FMS!
TJ Winland is a bright student that comes to class with a positive attitude. He comes prepared to work with his assignments completed. He can be counted on to positively contribute to group discussions in a thoughtful way, giving good insights that are valuable to the class. Additionally, he can be depended on to kind and respectful to both students and teachers. Way to go, TJ!