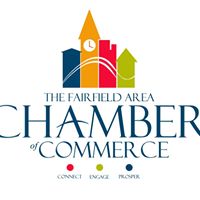 The teachers in Fairfield and the surrounding communities do a great job educating our youngest citizens. For 2019 the Fairfield Area Chamber of Commerce is pleased to announce our inaugural Teacher Appreciation event . This event is aimed at helping all Pre-K through 12 teachers stock their classrooms with the supplies they need for the year ahead. An often quoted statistic is that teachers spend between $400-$600 per year out of their own paycheck for classroom supplies. Let's all come together and help eliminate the need for these dedicated professionals to pay to work at their job! Sign up today for the low cost of $25 to host a booth and offer supplies and various other items to the
teachers. We'll supply you with a wish list of needed items.
The event will be held on Wednesday, September 25 from 4:30pm – 7:30pm at the Fairfield Arts and Convention Center, and will include teachers from Fairfield Community Schools, Maharishi School, Pekin Schools, Van Buren Schools, and Cardinal Schools. We would also like to help promote connections and relationships being made between the teachers and businesses within the community that night. . The teachers are also interested in learning how you can help throughout the year in their classrooms. Do you have someone who would make a great guest speaker on a specific topic? SHARE that information with the teachers. They are always open to gaining new resources! For teachers new to our area, please also bring information sheets about your business events and service organizations that have any events that might interest teachers and their families throughout the year.
Connect with Chelsey Haynes at the Chamber for more information and to address any questions or concerns you may have at this time. Events@FairfieldIowa.com (641) 472-2111. Please register online at https://signup.com/go/WWvwgLi by 5:00pm on Wednesday, September 18.