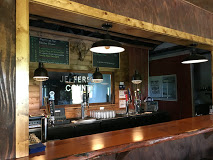 Jefferson County Ciderwork's has been honored again, this time by the Great Lakes International Cider and Perry Competition (GLINTCAP), the largest such event in the world. Medals were awarded to six of the company's different ciders, including a gold medal for in the spiced cider category for Ciderwork's flagship Hibiscus Rose.
Jefferson County Ciderwork's Hibiscus Rose is made with nothing but hibiscus leaves, whole rosehips, rose water, and apples. Cidermaker Jesse Narducci's says his  approach to crafting award winning ciders is to use ingredients to enhance the qualities of the cider itself, and marry those flavors with the apples in a way that makes something exciting and delicious to drink," he said. "It's a real honor that our Rose Cider was given this top award."
Other Ciderworks honorees include Lemon-Lavender cider, a bronze medal winner in GLINTCAP's speciality cider category.
The GLINTCAP honors are the latest in a string of awards for Jefferson County Ciderworks, which was named 2018 Cider Establishment of the Year for the Midwest region during CiderCon, the annual conference hosted by the US Association of Cider Makers.