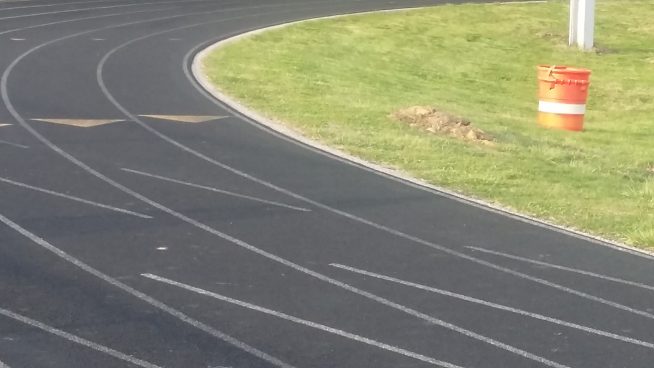 Pekin hosted the boys Ruritan Relays Monday and ran away with the championship scoring 165 and a half. Winning were Dayne Eckley the 100 (11.41) and 200 (23.8), Devin Fraise the long jump (18-6 and a half) and 110 meter high hurdles (17.91), Brady Millikin the 1600 (4:46.69), Colten Glosser the 3200 (10:45.84), the 4 by 100 of Lathe Crochet, Quinn Ledger, Eckley and Fraise (46.25) and shuttle hurdle relay made up by Cole Earnest, Crochet, Fraise and Ledger (1:07.13). They had 2nds from:
Earnest in the long jump (18-2) and 400 meter hurdles (1:04.43)
Glosser the 800 (2:19.41)
the 4 by 200 with KJ Rohr, Michael Jones, Brady Latcham and Earnest (1:41.22)
4 by 800 including Brayden Sobaski, Zack Wise, Tanner Conger and B. Millikin (9:11.6)
800 meter sprint medley made up by Cameron Millikin, Crochet, Jones and Eckley (1:42.74)
and 1600 meter distance medley that featured Rohr, Ledger, Conger and Glosser (4:02.38)
Sigourney was 2nd with 78 points.
Van Buren got 2 victories, Caleb Johnson the high jump (5-6) and Jonah Heckenberg the 800 meters (2:14.24). Adding 2nds were Hunter Rodibaugh the discus (114-3) and Bryson Mineart the 110 meter high hurdles (19.51). They finished 4th totaling 65 points, just 2 behind Lone Tree.
The Cardinal boys were last of 10 with a score of 4. Ian Liles led the way taking 5th in the 400 meter hurdles at 1:07.81.