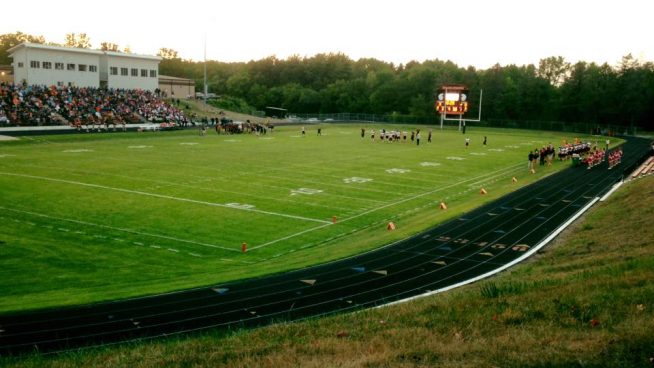 Nate Weaton is the new Fairfield High School head football coach after being approved during the school board meeting Monday night. A press release from the district said Weaton has shown his devotion to using his time and talents to help prepare students for life through the sport of football. His visionary, planning, and leadership skills which he has used successfully in his business career allow him to lead and motivate coaches and players toward a common goal on the football field. All of these proven characteristics along with his sincere care for our students, parents, school, and community made him an ideal candidate to continue Fairfield's strong football tradition.
He was raised in Cedar Falls, Iowa, participating in high school football and basketball. Weaton was a three-year letter winner in both. He credits many coaches for being incredibly strong inspirations in his life and he uses these experiences to guide his own coaching actions. He considers himself blessed to have played for and learned from: Bob Weaton who was a long-time Iowa High School football coach in Hawarden, Mason City, Cedar Falls and Waterloo West High Schools, Pat Mitchell, a legendary Cedar Falls High School Head Football Coach who served in that capacity for 40+ years and Jerry Slykhuis, the Hall of Fame Cedar Falls Head Basketball Coach.
He obtained a Bachelor of Arts Degree from the University of Iowa in Economics, and was a scholarship graduate of the Army Reserve Officer Training Corps. He has spent the last 20 years in progressive business and entrepreneurship ventures. From 2012 to 2017, Weaton was with Dover Corporation, responsible for their Hillphoenix Specialty Products Division at Keosauqua and Hillphoenix Case Division of Richmond, VA. In 2017, he started Weaton Capital, a diversified manufacturing company focused on providing succession planning solutions to great Iowa companies.
For the last 7 years, Weaton has volunteered as a coach for the Fairfield Youth Football, Fairfield Little League, Babe Ruth and Fairfield Youth Basketball Programs. The past two seasons, Weaton has served as a Volunteer Assistant Coach on the Fairfield Trojan Football Varsity Staff. During the 2017 season, Weaton was responsible for Wide Receivers, and in 2018 he switched to the defensive side of the ball with responsibility for all secondary positions. He also shared responsibility for Special Teams positions. This broad exposure to offense, defense and special teams, gives him great experience that he is eager to take into his beginnings as Head Coach. His wife, Lori, is President of Agri-Industrial Plastics Company and they reside in Fairfield. They have 5 children, Cami, Jack, Abby, Max and Sam.
Nate is pictured below with wife Lori