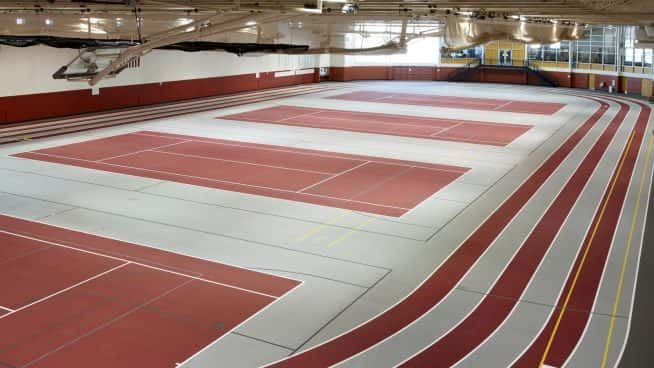 Pekin hosted a coed indoor track meet at Central College in Pella Friday. Winning for the Panther boys were 4 by 400 and 4 by 800 both featuring Chandler Eckley, Sam Roth, Cameron Millikin and Isaiah Wittrock plus the 55 meter shuttle hurdle relay including Lathe Crochet, Quinn Ledger, Clayton Culp and Jordan Hixson. They had 2nds from the distance medley made up by Brady Millikin, Levi Long, Braydon Sobaski and Colten Glosser and the California mile or 8 by 200 of Canyon Decker, Michael Jones, Kaden Baker, Dayne Eckley, Monico Requena, Tanner Conger Crochet and Hixson. Slater Williams added a 3rd in the shot put.
The Cardinal boys had wins at Pella from Mason Aschenbrenner the 55 meter hurdles and Trey Albert the long jump. Taking 2nd were the 55 shuttle hurdle relay featuring Colby Aschenbrenner, Wyatt Gatton, Albert and M. Aschenbrenner plus the 4 by 200 with Jarret Greiner, Albert and both Aschenbrenners. Gatton took 3rd in both the high jump and 55 meter hurdles.
The host Pekin girls took first in the 4 by 800 of Hollie Loper, Hunter Lock, Cari Duwa and Remi Duwa. Their 4 by 200 was 2nd with Zoey Wright, Sophie Wittrock, Cate Roth and Emilee Linder. They got 3rds from the distance medley made up by Kaitlyn Glosser, Loper, Lock and R. Duwa along with the 55 meter shuttle relay of Wright, Wittrock, Linder and Roth. Davis County had the first place girls 4 by 200 at Central College.
Ottumwa was at the Washington Demon indoor competition on the Cornell College campus at Mount Vernon Friday. Jonathan Bossou ended up winning the high jump. Taking 3rd place were Austin Casillas the 200, Gatlin Menninga the long jump and the 4 by 800 of Aytonn Bar-Shimon, Dante Salomen, Kie Glosser and Conner Riley. The Bulldogs 4 by 400 featuring Casillas, Bar-Shimon, Menninga and Riley finished 4th. Noah Boyer shared 4th in the high jump.
The Fairfield boys also went to Mount Vernon and had Hunter Drish take 5th in the long jump. The other top performance was the 4 by 400 finishing 11th with Max Sullivan, Landon Kooiker, Connor Ryan and Drish.