Pekin took both team titles in the Southeast Iowa Super Conference cross country meet Thursday at Winfield. Remi Duwa (pictured below) was the girls champion with a time of 19:30.
The Panthers also had Colten Glosser (pictured below) win the boys race in 16:52.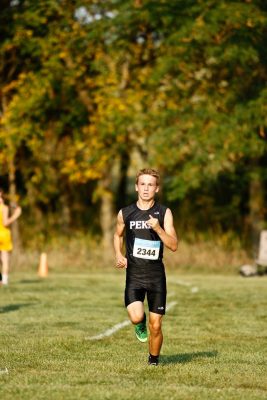 Pekin totaled 49 points which beat Danville/New London by 15 in the girls competition. That also featured:
8th Hollie Loper 21:00
9th Zoey Wright 21:15
14th Cari Duwa 21:27
and 17th Kelly Myers 21:50
They also had solid alternates runs from Hunter Lock finishing 19th at 21:55 and 22nd place Kaitlyn Conger in 22:07.
The Panther boys scored 63 which was well under runner up Wapello with 81. The other varsity runners included:
7th Brady Millikin 17:25
8th Isaiah Wittrock 17:30
14th Sam Roth 17:53
and 33rd Tanner Conger 18:51
Jonah Heckenberg of Van Buren took 10th in 17:38. Clay Neeley was 25th at 18:28 and John Orndoff 29th with a clocking of 18:36. They ended up 7th of 14 as a team totaling 173 points.
The Van Buren girls were 7th scoring 175. Audrey Smith led the way finishing 16th in 21:48. Anna Neeley took 32nd at 23:12 scoring 31 and Codi Welch ended up 34th with a time of 23:29 which got 33 points.
Cardinal was represented by some boys but not enough for a team score. The best performances came from Wyatt Gatton finishing 77th in 21:00 minutes and 80th place Gunner Zugg clocked at 21:14.