The picture has Brynna Bowman on left and Kaylee Watson.
The Iowa Girls Coaches Association has announced All-State selections for the 2017 softball season. Making the Class 4A 1st Team are Fairfield seniors Brynna Bowman and Kaylee Watson. Joining them from Southeast Conference champion Mount Pleasant senior Bailey Johnson and Michaela Davis, a junior from Keokuk.
Sigourney had senior Autumn Barthelman on the 1A 1st Team. Named to the Class 3A 1st Team were Albia's junior Hannah Isley and freshman Jena Lawrence.
On the 2A 1st Team are Eddyville-Blakesburg-Fremont seniors Haegen Boyer and Claire Jager plus Randie Richmond, a junior. The Rockets Tony Fenton was named the Coach of the Year for this class.
Named 2nd Team All-State:
Class 4A
Fairfield junior Ashtyn Drish, front left of the picture below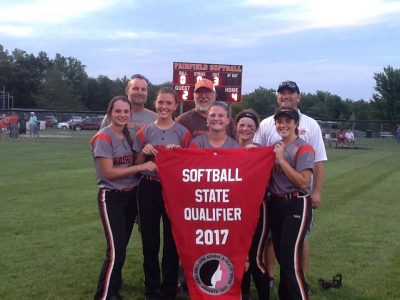 Also Mount Pleasant senior Chi Glaha
Class 1A
Senior Kendall Streigle of Sigourney
Class 3A
Albia freshman Alex Beard
Class 5A
Morgan Greiner, a sophomore from Ottumwa
Area 3rd Team All-State players include:
Class 3A
Davis County sophomore Bailea Yahnke
Class 4A
Jalynn Wood, a sophomore from Keokuk
Class 5A
Ottumwa freshman Kacy Nickerson
Receiving Honorable Mention:
Class 2A
Senior Kaylee Linder of Pekin
Class 1A
Sigourney sophomore Summer Barthelman
New London's Breanna Mettler, a junior and freshman Layna Loyd