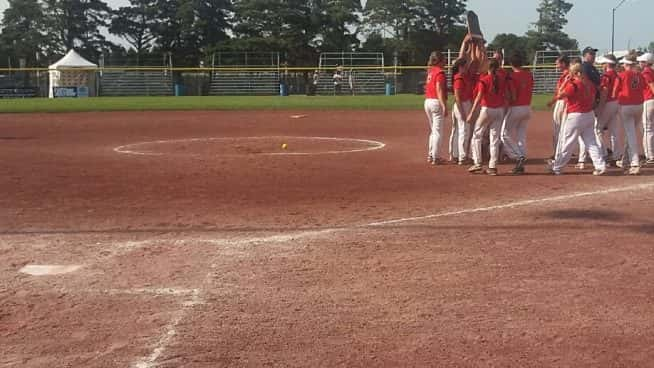 Picture is of the Fairfield softball team just after receiving the Class 4A state 7th place trophy Wednesday at Fort Dodge.
Fairfield got by Sergeant Bluff-Luton 7-5 Wednesday in the Class 4A state softball tournament 7th place game. That was after falling to Carlisle 4-0 during the consolation semifinal round earlier Wednesday. They totaled 19 hits. Shay Drish finished 5 of 7 in the competition Wednesday. She was 6 of 9 overall in 3 games at state. Sara Trent went 5 of 7 Wednesday. Kenady Waugh ended up 3 of 6. Kaylee Watson had 2 hits including a solo homer. She also nailed a 2 run round tripper in the first round contest Tuesday. Ashtyn Drish added a double Wednesday.
Brynna Bowman got the win pitching the final 2 innings against SBL, fanned a batter and didn't give up a hit. Starter Allison Rebling threw 5 innings, totaled 2 strikeouts, allowed the 7 hits and 5 runs 3 of them earned. Haley Beard was charged with the loss in the Carlisle game going 5 innings, fanned 2 batters, gave up 7 hits and 2 earned runs. Rebling went 2 innings, had 2 strikeouts, allowed 4 hits and 2 earned runs.
Carlisle went on to take 5th, pulling out an 8 inning 2-1 win over Mount Pleasant.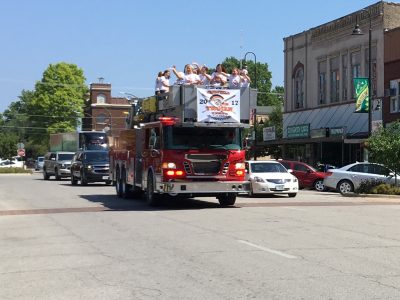 This was the team riding the firetruck on the east side of the square after a send off pep rally at the Fairfield Middle School Monday morning before getting into SUV's that took them to Fort Dodge.
The players, coaches and families appreciated the generosity of many people and businesses for the week.